Controllers
Bentrup regulators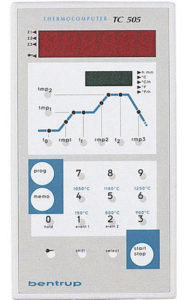 TC 505
All values of the firing curve can be changed easily and simpler.
Range of values covers all applications for the ceramic.
30 firing curves can be saved as programmes.
All values of interest can be displayed without interrupting the firing process.
Optional multizone operation, all values and channels are shown automatically.
Highest comfort in operation and entering values.
TC 507

As TC 505, but enabling full flexibility of the firing curve shape.
Up to 99 segments can be entered as you like enabling multiple heat up / dwell / cooling processes.
Ramps can be entered as °C/h or time simultanously.
Manual process control feature, multiple events etc.
Up to 99 firing curves can be saved as programmes.
The TC 507 succeeds the TC 405/30 and therefore is destined to be the standard in thermal glass processing.